June is designated "Alzheimer's & Brain Awareness Month" and a time to increase public awareness of Alzheimer's disease, available resources and how people can get involved to support the cause. 
Alzheimer's disease is one of an overall group of dementia conditions that describe a decline in memory or other thinking skills. Usually the symptoms are severe enough to reduce a person's ability to perform everyday activities. There are many conditions that can cause symptoms of dementia, including some that are reversible, such as thyroid problems and vitamin deficiencies.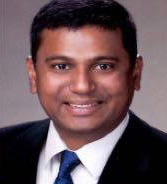 Members of the St. Joseph Senior Advantage Program can join Anand Balasubramanian, M.D., an internist on the medical staff of St. Joseph, for a free breakfast seminar to learn about dementia, its symptoms, diagnosis and treatment options. The event takes place Wednesday, June 27, from 8-9:30 a.m. in the fourth-floor meeting room of the Heights hospital located at 1917 Ashland Street. 
"Many people have memory loss issues and it does not mean they have Alzheimer's or another dementia," said Dr. Balasubramanian. "There are many different causes of memory problems, and some dementia-like symptoms can be reversed. So see a doctor if you, or a loved one, are experiencing troubling symptoms.  Don't avoid a discussion."
Seating is limited and reservations can be made by calling 713-969-5376 by 2 p.m., Monday, June 25.
Membership in St. Joseph's Senior Advantage Program is free and open to all seniors ages 55 and older. Join by calling 713-969-5376.