Although heart disease threatens the health of millions of Americans, the death rate due to heart disease is declining. Early detection of heart disease, proper treatment, and adopting heart healthy habits can lead to a longer, healthier, more active life. Being recognized as an accredited Chest Pain Center by the ACC (American College of Cardiology) and the American Heart & American Stroke Associations, St. Joseph Medical Center is proud to offer a comprehensive program to meet your cardiac needs.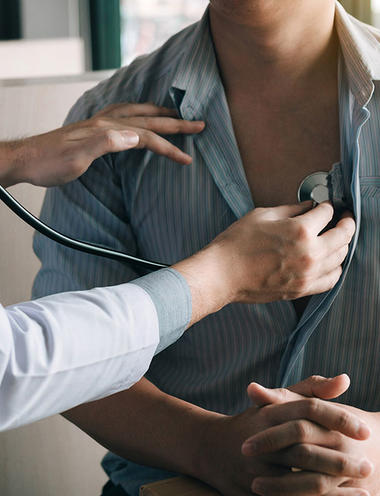 Cardiology
St. Joseph Medical Center was the first hospital in downtown Houston to care for the hearts of the community. We are proud to say we have provided this city with the first center for cardiovascular diseases and the first cardiac intensive care unit.
We offer a broad spectrum of cardiac services, from non-invasive tests for early diagnosis and treatment to open heart surgery, all delivered with compassion and exceptional expertise.
Accredited Chest Pain Center
As an Accredited Chest Pain Center through the ACC (American College of Cardiology), the St. Joseph Medical Center team is committed to providing efficient, timely emergency heart care to all patients. This has been achieved by enhancing coordination among all providers involved in the patient's care: emergency responders, local EMS, our hospital ED team, the heart cath team, laboratory staff, the critical care unit and cardiac rehab. Our team has worked hard to reduce the time-to- treatment during the critical early stages of a heart attack and are proud to be well below the national average benchmark of 90 minutes.
Our 24-hour Chest Pain Center team is trained in identifying patients who may be having a heart attack – even when they don't display the usual symptoms. The key to successfully treating a heart attack is early detection and treatment.
Heart Surgery
A wide range of surgical options, including open heart surgery, are available to treat and correct heart disease. For minimally invasive procedures, surgeons have access to sophisticated surgical suites that use digital systems. These procedures are designed to improve the safety of surgery and can also lead to less scarring and faster recovery for patients. 
Cardiac Catheterization
Cardiac catheterization helps doctors evaluate how well the heart is functioning and whether there are blocked arteries. During the procedure, a cardiologist inserts a very thin flexible tube into a major artery and navigates it to the arteries around the heart. Using advanced imaging technology, the doctors can see whether there is plaque build-up in heart vessels. If a blockage exists, interventional treatments such as angioplasty or stent placement can be used to restore better blood flow. Since cardiac catheterization is a minimally invasive procedure, most patients feel better within hours and some can go home the same day.
Heart Care for Women
How to Know if You Are at Risk of Heat Disease
Some risk factors can't be changed. For example, if your mother or sister had heart trouble before the age of 65, or if your father or brother had heart trouble before the age of 55, then you may be at higher risk for having a heart attack. Also, the risk of heart disease increases with age.
Many risk factors, however, can be controlled. Here are the top eight controllable risk factors:
Smoking: Women who smoke are up to 6 times more likely to have a heart attack. Smoking damages the lining of the blood vessels and raises blood pressure.
Diabetes: Women with a blood sugar level above 100 mg/dL are at higher risk of developing heart disease. Also, diabetes can make you more likely to have a silent heart attack.
High Blood Pressure: If your blood pressure is 120/80 or higher, then you may be at greater risk of heart disease.
Unhealthy Lipid Levels: Unhealthy HDL (good cholesterol) and LDL (bad cholesterol), levels can increase your risk. You may be at risk if your HDL cholesterol is 50 mg/dL or lower; LDL cholesterol 100 mg/dL or higher; triglycerides of 150 mg/dL or higher.
Excess Weight: Excess weight makes your heart work harder and raises your risk of heart attack. Obesity could put you at risk for developing heart disease.
Lack of Exercise: Not only does a lack of exercise contribute to the development of other risk factors like obesity and diabetes, but high blood pressure and unhealthy lipid levels are also more likely.
Negative Emotions: Not all risk factors are physical. Stress and pent-up anger have been linked to heart disease. If you suffer from anxiety and depression, you may be interested in learning more about our Behavioral Health services for women.
Metabolic Syndrome: If you have three or more of the following, then you have metabolic syndrome: low HDL cholesterol, high triglycerides, high blood pressure, high blood sugar, extra weight around the waist. Metabolic Syndrome puts you at extra high risk of stroke, heart disease, and diabetes.
1401 St. Joseph Parkway
Houston, TX 77002
713-757-1000
Conditions We Treat
A range of cardiovascular conditions
Arrhythmia
Peripheral Vascular Disease
Peripheral Artery Disease
Treatments
Automatic implantable cardioverter defibrillators
Bypass surgery
Coronary balloon angioplasty
Coronary stent placement
Defibrillator implantation
Diagnostic cardiac catheterization
Electrophysiologic investigation
Radiofrequency ablation
Open heart surgery
Peripheral angioplasty
Permanent pacemakers
Chest pain response
Coronary Artery Bypass Surgery
Heart Valve Surgery
ECMO Life Support (Extra-corporeal Membrane Oxygenation)