Orthopedics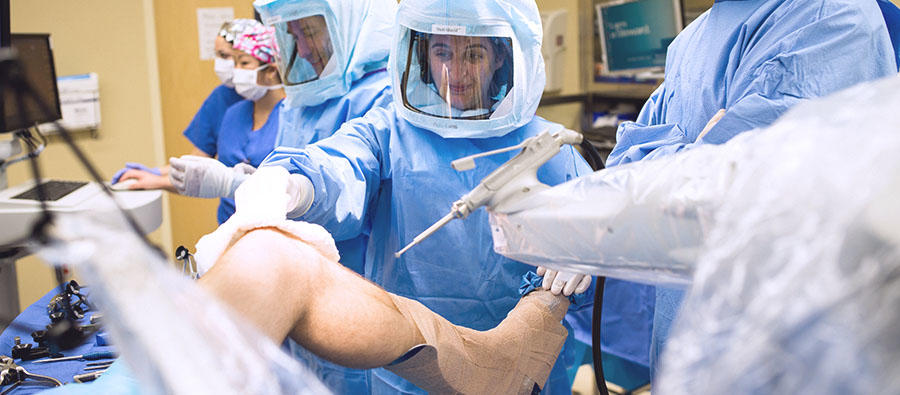 We are here to help you find what you need.
As orthopedics focuses on disorders, diseases, and injury of bones, joints, and muscles, our physicians are equipped to treat sprains, dislocations, and broken bones as well. They assist patients daily in dealing with decisions about joint replacement and chronic back pain.
When you meet with your physician, he or she may want to see any tests that were completed by another physician, and may ask for more. Typically blood work and x-rays are a part of making a proper diagnosis. Additional CT scans and MRI's can provide more details views of the injured areas.
Sports Medicine & Rehabilitation Center
In 2003, we opened the 5,000 square-foot Sports Medicine and Rehabilitation Center, designed for the prevention, treatment, and rehabilitation of injuries and diseases. From children to seniors, we provide advanced patient treatments for the following:
Brain injuries
Cardiovascular problems
Cerebrovascular accidents and strokes
Developmental disorders
Orthopedic and neuromuscular injuries and diseases
Shoulder, arm, and hand injuries
Spinal injuries
Sports injuries
Surgical loss of limbs
Upper extremity injuries and disorders
Specialties include:
Assessments of physical impairment
Ergonomics analysis
Job-site safety
Occupational and hand therapy
Physical therapy
Speech therapy
Sports Medicine
Orthopedic Health for Women
The risk of osteoporosis (weakening of the bones), bone density loss, and other bone health concerns increase with age for all women. Postmenopausal women are at the highest risk for osteoporosis. In fact, 10% of all women over the age of 50 are afflicted with osteoporosis of the hip. We perform blood work, x-rays, CT scans, MRIs, and bone density tests, as well as help you make decisions about joint repair and replacement surgery when necessary.
Bone Density Screening
Bone density testing is safe, quick, easy, and painless. If you're over the age of 65, then Medicare will cover the cost of the test once every two years. There are two types of tests that you may receive at St. Joseph Medical Center:
Peripheral tests are used for screening. This type of test, often administered via quantitative ultrasound (QUS), measures density in the finger, wrist, knee, shin, or heel.
Central tests, on the other hand, are used for diagnosis, and measure density in the hip or spine. The main type of central test is a dual energy x-ray absorptiometry (DXA) test. This highly accurate test uses two x-ray beams at different energy levels to measure bone absorption of the beams.
Should I get a bone density test?
If you meet one of the following requirements and have not had a bone density test in the last two years, then you should schedule one in the next few weeks:
You are a postmenopausal woman under the age of 65 with one or more risk factors in addition to menopause.
You are 65 years of age or older.
You are postmenopausal and have fractures.
You are thinking about getting treatment for osteoporosis.
You have been on hormone therapy for several years.
You have bone-related medical conditions or have been taking certain medications, such as glucocorticoids or prednisone, for a long period of time.
Conditions
Sports injuries
Spinal disorders
Arthritis surgeries
Pediatric orthopedics
Joint replacement
Chronic back pain
Treatments
Counseling
Casts
Medication
Physical therapy
Rehabilitative therapy
Splints
Surgery
Resources
Thumbs Up for Hand Care

Each time you tie your shoes, shampoo your hair, cook a meal, tap out an email or a text message, or brush your teeth, you're using one of the most important parts of your body: your hands.

The Road to Good Bone Health

Bones play many roles in the body. They provide structure, protect organs, anchor muscles and store calcium. Adequate calcium consumption and weight-bearing physical activity build strong bones and may reduce osteoporosis later in life. At any age, you can take steps to keep your bones strong.