Dr. Niki Carayannopoulos Joins Staff of St. Joseph Medical Center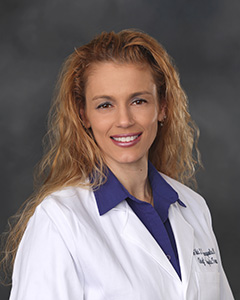 HOUSTON -- Niki Carayannopoulos, D.O., a fellowship-trained, board-certified orthopedic surgeon, has joined the staff of St. Joseph Medical Center and practices at Houston Institute for Sports Medicine and Orthopedics. Orthopedic surgery involves treating the musculoskeletal system, which includes degenerative conditions, trauma, sports injury, tumors and congenital issues. She is a specialist in trauma/acute injury and reconstructive surgery for both adults and children.
Dr. Carayannopoulos received her Bachelor of Arts and Bachelor of Science degrees from Southwestern University in Georgetown and her medical degree from the University of North Texas Health Science Center in Fort Worth.  She completed her residency training for orthopedic surgery at the University of Texas Medical Branch.  
"Patients with a variety of mobility issues can have their lives transformed by orthopedic surgery. I went to medical school because I wanted to help families, and in my specific area of practice, we can really fix specific health problems and see immediate results," said Dr. Carayannopoulos.
She also has more than a decade of experience with minimally invasive surgery including arthroscopy of the upper and lower extremity and endoscopic carpal tunnel release surgery. 
Upon graduating from residency, Dr. Carayannopoulos received the Scholastic Achievement Award, the Resident Research Award, and the Lockhart Award, the most distinguished award for research during her residency. 
"I love what I do; it gives me an opportunity to take care of the whole family – ages one to 100 – and orthopedic care has such an impact on people's lives," said Dr. Carayannopoulos
Dr. Carayannopoulos was recruited to UTMB in October 2011 to serve as the chief of Orthopedic Trauma Surgery in the Department of Orthopedic Surgery and Rehabilitation (DOSR).  During her tenure at UTMB, she also served as the Fellowship Director of the AO International Trauma Fellowship, Assistant Professor of Orthopedic Surgery & Rehabilitation, and the Medical Director of Orthopedic/Trauma Unit.
There are two locations for the Houston Institute for Sports Medicine and Orthopedics: 2000 Crawford, Suite 1750; and 427 W 20th St., Suite 301. For a complete biography of Dr. Carayannopoulos or to schedule an appointment, visit www.HoustonSportsAndOrtho.com or call 713-756-5546.