St. Joseph Medical Center Announces First "EMS Stewards of the Community" Awards Winners
May 29 2019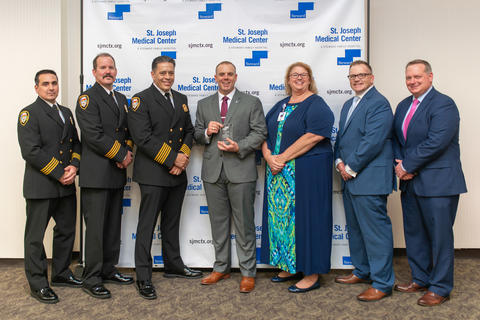 Pictured above from L to R: Alfredo Martinez, HFD Asst. Chief; Justin Wells, HFD Asst. Chief; Sam Pena, HFD Chief, Randall Walthall, HFD EMS Award Winner; Kim Bassett, St. Joseph President; Donald Johnson, SJMC EMS Director and Brenden Hayden, Steward System VP of EMS
HOUSTON (May 29, 2019) – Four EMS providers who have gone above and beyond in their interactions within the medical community and St. Joseph Medical Center (SJMC) patients were awarded as "EMS Stewards of the Community" in honor of National Emergency Medical Services (EMS) Week May 19-24.
The inaugural awards ceremony took place on May 23 and honored the work and dedication of Juan Mendez from Acadian Ambulance Service, and Justin Roberts, Rogelio Salinas and Randall Walthall from the Houston Fire Department (HFD).
St. Joseph, part of Dallas-based Steward Health Care, planned the inaugural event in conjunction with several sister facilities across the company to express appreciation for emergency medical responders, emergency medical technicians and paramedics who dedicate themselves to their profession and to others.
"It was my pleasure to honor these four outstanding individuals and highlight their commitment to caring for patients," said Kim Bassett, President of St. Joseph. "They have touched more lives than they can ever imagine and they, along with all our local EMS providers, are the hospital's partners in keeping families and communities healthy and safe.  This award allows us to recognize a few individuals that stand out, and I look forward to honoring many more EMS providers in the years to come."
Over 100 attendees enjoyed a social hour, dinner and a keynote speech delivered by Gene Kranz, Former NASA Flight Director during the Apollo 11 and 13 missions. Kranz retired from NASA in 1994 after 37 years of federal service, and is currently a writer and speaker.  He told the story that was depicted in the hit film, Apollo 13, which chronicles Kranz's struggles to devise the plan that would safely bring the ship and its crew of three astronauts home after the oxygen system failed. Actor Ed Harris portrays Kranz in the film, which was directed by Ron Howard.
Award recipients were nominated by hospital staff, community members and peers. The selection committee consisted of an internal group of physicians and EMS directors in communities served by Steward.
###
About St. Joseph Medical Center 
St. Joseph Medical Center (SJMC), in partnership with physician owners and part of Steward Health Care Network, is a full service, general acute care hospital with its main campus in downtown Houston and a second hospital in the Houston Heights. Celebrated as Houston's first hospital and the only one downtown, SJMC has been providing a wide range of services to greater Houston area residents for more than 130 years. Services include a 24-hour Level III Emergency Center, behavioral medicine, cardiovascular surgery, cancer care, bariatric and general surgery, orthopedics, sports medicine, women's health services and more. St. Joseph Medical Center in the Heights offers a 24-hour Level II emergency center, an intensive care unit, outpatient cardiac clinic, diagnostic imaging, inpatient care and a wide range of surgical services. For information about SJMC's programs and services, visit sjmctx.org.
About Steward Health Care
Steward Health Care is the largest private, tax paying physician-led health care network in the United States. Headquartered in Dallas, Texas, Steward operates 37 hospitals in the United States and the country of Malta that regularly receive top awards for quality and safety. The company employs approximately 40,000 health care professionals. The Steward network includes multiple urgent care centers and skilled nursing facilities, substantial behavioral health services, over 7,900 beds under management, and approximately 2.2 million full risk covered lives through the company's managed care and health insurance services.
The Steward Health Care Network includes five thousand physicians across 800 communities who help to provide more than 12 million patient encounters per year. Steward Medical Group, the company's employed physician group, provides more than six million patient encounters per year. The Steward Hospital Group operates hospitals in Malta and nine states across the U.S., including Arizona, Arkansas, Florida, Louisiana, Massachusetts, Ohio, Pennsylvania, Texas and Utah.