HOUSTON (June 5, 2019) – St. Joseph Medical Center (SJMC) is honoring cancer survivors this month with celebration events for former cancer patients who were treated at its freestanding cancer centers.
"We are so proud to honor our former cancer patients in recognition of Cancer Survivors Day in June," said Radiation Oncologist Sanjay C. Mehta, M.D. "We enjoy catching up with our patients to see how they are doing since their successful treatments. They become an extended family because we spent much time together helping them beat a cancer diagnosis – and that creates a lifetime bond between us all."
St. Joseph Cancer Center in West Houston will host the celebration Saturday, June 15, from 2-4 p.m. Register to attend at sjmccancercenter.eventbrite.com or by calling 713-343-6750.
The downtown location of St. Joseph Cancer Center will celebrate on Sunday, June 30, from 2-4 p.m. For registration, visit sjmcdowntown.eventbrite.com or call 713-757-7593.
St. Joseph Cancer Centers are located at 9150 S. Main St., 2610 W. Sam Houston Parkway South, and 1401 St. Joseph Parkway.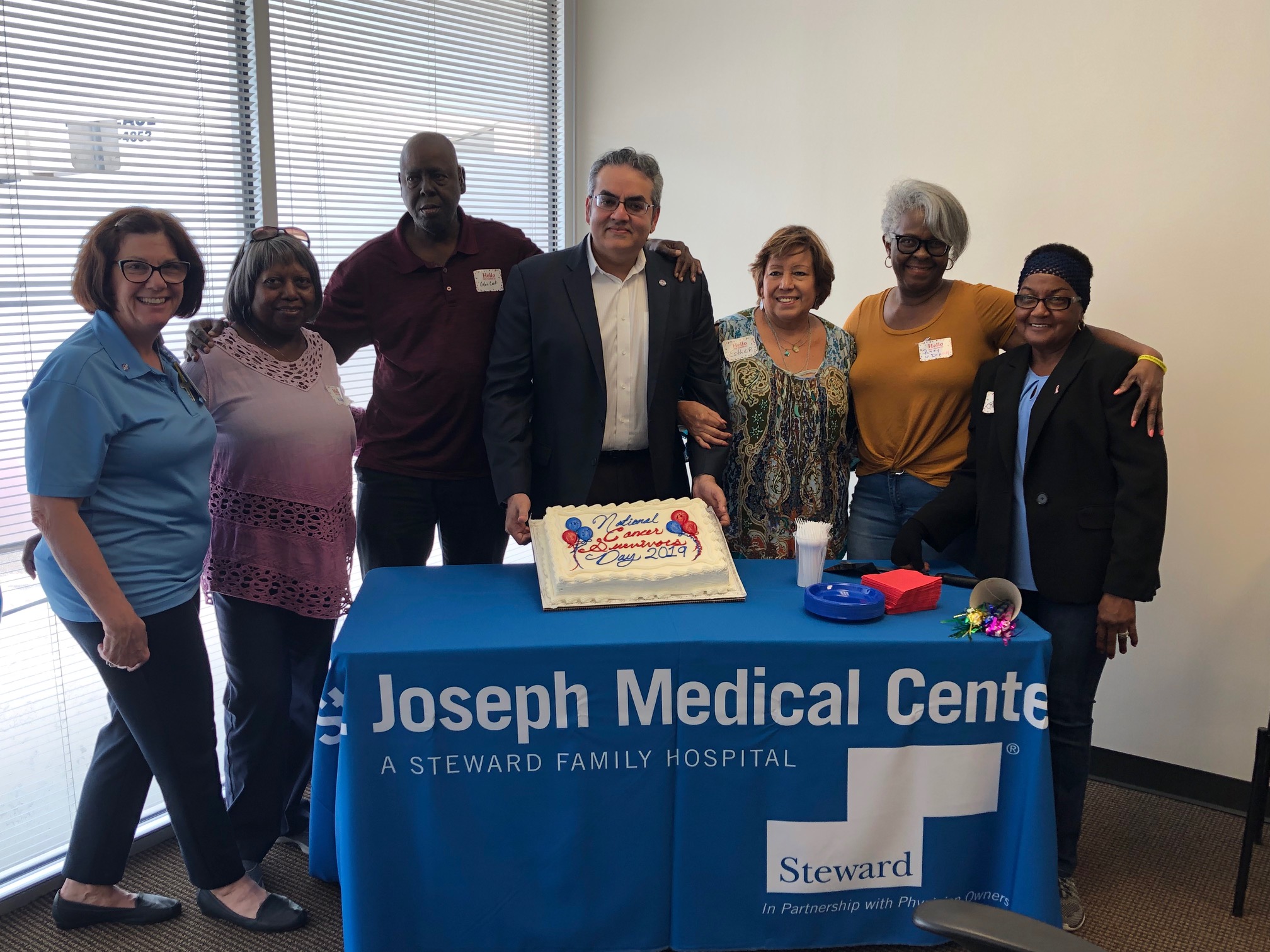 Cancer survivors reunite with physicians and staff at St. Joseph Cancer Center in honor of Cancer Survivors Day.
About St. Joseph Medical Center 
St. Joseph Medical Center (SJMC), in partnership with physician owners and part of Steward Health Care Network, is a full service, general acute care hospital with its main campus in downtown Houston and a second hospital in the Houston Heights. Celebrated as Houston's first hospital and the only one downtown, SJMC has been providing a wide range of services to greater Houston area residents for more than 130 years. Services include a 24-hour Level III Emergency Center, behavioral medicine, cardiovascular surgery, cancer care, bariatric and general surgery, orthopedics, sports medicine, women's health services and more. St. Joseph Medical Center in the Heights offers a 24-hour Level II emergency center, an intensive care unit, outpatient cardiac clinic, diagnostic imaging, inpatient care and a wide range of surgical services. For information about SJMC's programs and services, visit sjmctx.org.
About Steward Health Care
Steward Health Care is the largest private, taxpaying physician-led health care network in the United States. Headquartered in Dallas, Texas, Steward operates 37 hospitals in the United States and the country of Malta that
regularly receive top awards for quality and safety. The company employs approximately 40,000 health care professionals. The Steward network includes multiple urgent care centers and skilled nursing facilities, substantial behavioral health services, over 7,900 beds under management, and approximately 2.2 million full risk covered lives through the company's managed care and health insurance services.
The Steward Health Care Network includes five thousand physicians across 800 communities who help to provide more than 12 million patient encounters per year. Steward Medical Group, the company's employed physician group, provides more than six million patient encounters per year. The Steward Hospital Group operates hospitals in Malta and nine states across the U.S., including Arizona, Arkansas, Florida, Louisiana, Massachusetts, Ohio, Pennsylvania, Texas and Utah.