St. Joseph Medical Center Celebrates Cancer Survivors June 30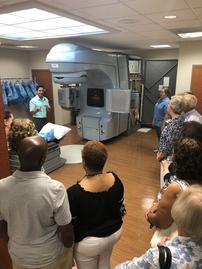 HOUSTON (June 18, 2019) – St. Joseph Medical Center (SJMC) is honoring cancer survivors this month with celebration events for former cancer patients who were treated at its cancer centers.
"We are so proud to honor our former cancer patients in recognition of Cancer Survivors Day in June," said Radiation Oncologist Ngoc Pham, M.D. "We enjoy catching up with our patients to see how they are doing since their successful treatments. They become an extended family because we spent much time together helping them beat a cancer diagnosis – and that creates a lifetime bond between us all."
The downtown location of St. Joseph Cancer Center will celebrate on Sunday, June 30, from 2-4 p.m. For registration, visit sjmcdowntown.eventbrite.com or call 713-757-7593.
St. Joseph Cancer Centers are located at 9150 S. Main St., 2610 W. Sam Houston Parkway South, and 1401 St. Joseph Parkway. 
Cancer Center survivors and guests visit with staff and tour the St. Joseph Cancer Center in honor of National Cancer Survivors Day.