Fear of COVID-19 Keeping Stroke and Heart Attack Patients from Seeking Care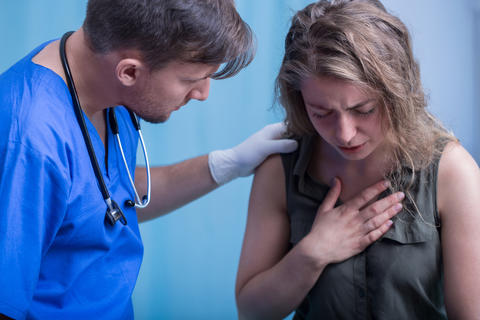 HOUSTON (April 14, 2020) – Due to the widespread threat of the coronavirus (COVID-19) many patients who need life-saving care are not seeking the help they need when every minute counts. If you are experiencing symptoms of stroke or heart attack, you are encouraged to call 911 or have someone bring you to the nearest emergency room.
"At St. Joseph Medical Center, we are taking every precaution to keep everyone safe at this time. We are screening all individuals that are coming into our emergency room including patients, employees, physicians, visitors, and EMS employees," explains Don Johnson, Emergency Department Director. "If anyone is exhibiting signs of COVID-19, they are taken to an isolation space for further screening."
It is important to pay attention to your body at this time of heightened stress and remember the signs and symptoms of heart attack or stroke. Waiting could have long term effects on your health.
"According to the American Heart Association, most heart damage occurs within the first two hours of a heart attack," explains Stroke and Chest Pain Program Coordinator, Ada Vaglienty, RN. "In regards to strokes, the longer you wait to seek care the more likely it is to see long-term or permanent deficits to everyday activities."
For signs and symptoms of stroke, you are encouraged to remember "BE FAST":
B – Balance: Watch for sudden loss of balance
E – Eyes: Check for vision loss
F – Face: Look for an uneven smiles
A – Arm: Check if one arm is weak
S – Speech: Listen for slurred speech
T – Time: Call 911 right away
Any one of these sudden signs could indicate a stroke.
For heart attacks, symptoms could include chest discomfort, shortness of breath, pain in one or both arms, and nausea. Symptoms for women can be different and include nausea or vomiting and back or jaw pain.
###
About St. Joseph Medical Center 
St. Joseph Medical Center (SJMC), in partnership with physician owners and part of Steward Health Care Network, is a full service, general acute care hospital with its main campus in downtown Houston. Celebrated as Houston's first hospital and the only one downtown, SJMC has been providing a wide range of services to greater Houston area residents for more than 130 years. Services include a 24-hour Level III Emergency Center, behavioral medicine, cardiovascular surgery, cancer care, bariatric and general surgery, orthopedics, sports medicine, women's health services and more. For information about SJMC's programs and services, visit sjmctx.org.
About Steward Medical Group
Steward Medical Group is a dynamic and growing physician-led multispecialty practice group that is a key part of Steward Health Care - the largest private, tax-paying hospital operator in the United States. The medical group operates practices in 11 states, with both primary care and specialties ranging from Women's Health to Advanced Cardiac Surgery.