St. Joseph Medical Center Achieves Healthgrades 2020 Labor and Delivery Excellence Award™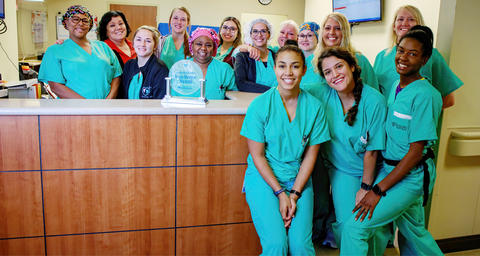 St. Joseph Medical Center announced today that it is a recipient of Healthgrades 2020 Labor and Delivery Excellence Award™ for the third year in a row. This distinction places St. Joseph Medical Center in the top 10% of all hospitals evaluated and recognizes the exceptional care of mothers during and after labor and delivery, according to Healthgrades, the leading resource that connects consumers, physicians, and health systems. St. Joseph Women's Center was also a Healthgrades Five-Star recipient for Vaginal Delivery for sixth year in a row.
"This achievement reflects our team's commitment to the pursuit of excellence for every mother we care for and every baby we deliver," said Jackie Lawson, director of the Women's Services at St. Joseph Medical Center. "We continually strive to improve our processes so we can consistently provide the best possible outcomes." 
Expectant parents are becoming increasingly aware of the importance of hospital quality and understand that it needs to play a factor in selecting where to deliver their baby, especially we the world continues to battle the COVID-19 pandemic. 
"The 2020 Labor and Delivery Excellence Award recognizes those hospitals that provide high-quality care for mothers during labor and delivery so that parents can have confidence in their decision," said Brad Bowman, MD, Chief Medical Officer, Healthgrades.
Known as "Houston's Baby Hospital," the Women's Center has provided exceptional care to mothers and infants since the first baby was born at St. Joseph's Infirmary on July 18, 1888. Today the Women's Center is part of several national initiatives on a quest to bring women and their newborns the highest quality of care, including the prevention of hypertension and breast cancer in expectant mothers. 
"We are always at the forefront of research and innovation, looking for cutting-edge techniques to provide the best result for our patients," said Lawson. "As the birthplace of one in three Houstonians, St. Joseph Medical Center is dedicated to building upon our legacy of 130 years, serving the Houston community." 
View Healthgrades hospital quality awards and methodologies.
Learn more about how hospitals partner with Healthgrades.