St. Joseph Medical Center Names New Chief Financial Officer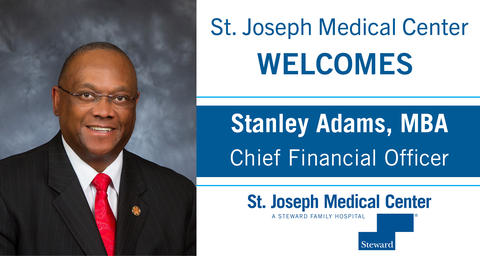 St. Joseph Medical Center announced today that Stanley Adams, MBA, has been named chief financial officer. In this role, Adams will oversee the organization's economic health, manage cash flow, and evaluate the hospital's overall financial performance.  
"As we continue to strive towards becoming a center of excellence, our team is pleased to bring Stan on board as a chief financial officer," said Kim Bassett, RN, MBA, and president of St. Joseph Medical Center. "Stan possesses a wealth of financial operations experience throughout the country and a proven track record of developing annual operation and capital budgets. His expertise will strengthen us as we explore new initiatives and opportunities for growth." 
Before joining St. Joseph Medical Center, Adams served as the interim financial officer for several integrated healthcare delivery systems throughout the country, most recently at Fairfield Medical Center in Lancaster, Ohio.  
His experience also includes time spent at Astria Regional Medical Center and Astria Toppenish Hospital in Yakima, Washington; Ascension Health in Austin, Texas; and Childhelp, Inc. in Phoenix, Arizona. Additionally, he held executive-level positions with Mercy Hospital Downtown & Mercy Hospital Southwest in Bakersfield, California, and Summit Regional Medical Center & Summit Healthcare Medical Associates in Show Low, Arizona. 
"I'm looking forward to being part of the St. Joseph Medical Center team, a hospital with deep roots and history in the city of Houston," said Adams. "What attracted most about this hospital is how community-oriented it is, and its evidenced dedication to serving others." 
Adams received his Bachelor of Science in accounting from California State University in Fresno and his Master of Business Administration from Keller Graduate School of Business. He is certified by both the American College of Health Care Executives (ACHE) and the Healthcare Financial Management Association (HFMA).