St. Joseph Medical Center, A Steward Family Hospital, Holds Open House for New Latino Health Center of Excellence Coming this Fall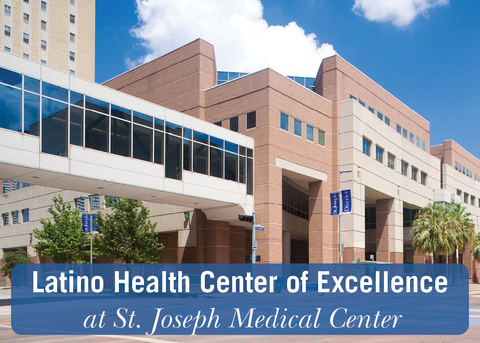 (Houston, TX) —This week, St. Joseph Medical Center hosted an open house for its groundbreaking new Latino Health Center of Excellence, which will offer culturally responsive care for the hospital's Spanish speaking preferred patients. The dedicated medical and surgical unit will provide comprehensive care, free of language barriers, geared specifically to the needs of SJMC's diverse patient population.  
The Latino Health Center of Excellence open house event served as a preview of the services and care model the Center will offer the community, allowing attendees to tour the new unit and learn about the unique features it will offer patients starting in the fall. 
"At St. Joseph Medical Center, it's our number one priority to provide top quality care to our community, and that means offering culturally responsive care, free of language barriers, to our Spanish speaking preferred patients," said Kim Bassett, President of St. Joseph Medical Center. "As a Steward family hospital, SJMC puts community first, and the Latino Health Center of Excellence is an important way for us to further that commitment." 
"Culturally responsive care is critical to helping patients feel heard, and when patients feel confident in their care, they can focus on healing," said Rennie Rogers, Director of Latino Health at St. Joseph Medical Center. "SJMC's Latino Health Center of Excellence is designed to break down language barriers so patients can feel safe, relaxed and comfortable in our care. Our goal is meet patients where they are at so they have the best possible health outcomes." 
The Latino Health Center of Excellence is the latest of SJMC's efforts to provide excellent care to its diverse Houston community, and will be open officially this fall. 
### 
About St. Joseph Medical Center
St. Joseph Medical Center (SJMC), in partnership with physician owners and part of Steward Health Care, is a full service, general acute care hospital located in downtown Houston. Celebrated as Houston's first hospital, SJMC has been providing a wide range of health care services to greater Houston area residents for more than 130 years. With 1,500 employees and over 700 beds, SJMC's services include a 24-hour Level III Trauma Center, behavioral medicine, cardiovascular surgery, three cancer centers, bariatric and general surgery, orthopedics, sports medicine, women's center with a Level III Neonatal ICU and much more. SJMC has more than 500 physicians on its medical staff and has partnerships with several medical school residency programs. For information about SJMC's programs and services, visit sjmctx.org.
About Steward Health Care  
Steward Health Care's physician-owned and -led business model was built to unlock access to the highest-quality care at a sustainable cost, committed to providing personalized, ongoing medical services that positively impact patients' physical, emotional, and mental wellbeing.  
Founded in 2010 by Ralph de la Torre, M.D., Steward Health Care is the largest physician-owned health care network with more than 5,500 providers and 43,000 health care professionals empowering the health and wellness journey of 12.3 million patients a year through its extensive global network of hospitals, urgent care centers, skilled nursing facilities and substantial behavioral health services.  
Based in Dallas, Steward currently operates 39 hospitals around the world, including 34 across Arizona, Arkansas, Florida, Louisiana, Massachusetts, Ohio, Pennsylvania, Texas and Utah, as well as five internationally within Malta and Colombia. For more information, visit www.steward.org.