Sleep Center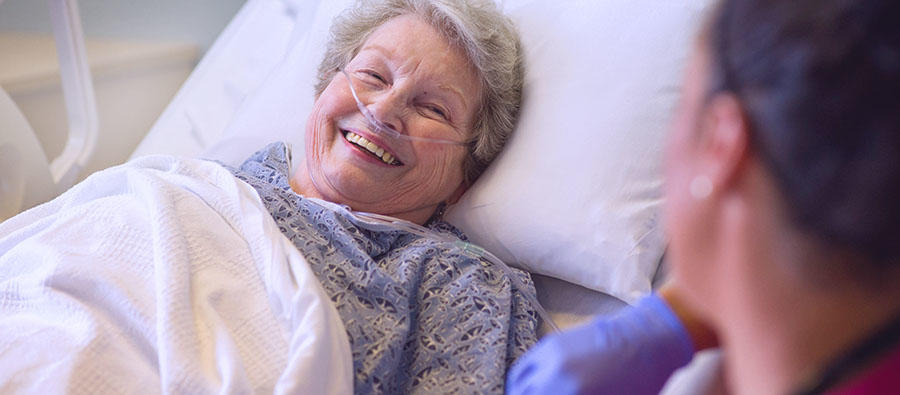 We are here to help you find what you need.
Patients coming for a sleep study at St. Joseph Medical Center will receive a thorough diagnostic work-up to identify the source of their sleep problems, and they will be sleeping in a beautiful room with either Tempur-Pedic® or Hästens mattresses.
The Center for Sleep Disorders at St. Joseph Medical Center is state-of-the-art on two fronts.
Patient-monitoring equipment is the latest on the market
Room amenities are equal to many five-star hotels
A polysomnograph, which requires an overnight stay in a sleep laboratory, collects data on the electrical activity of the heart and brain, and muscle activity of the patient. Data is collected by a certified technician, read by a board certified physician, and provided to the patient's primary care physician.
What to Expect
In the case of obstructive sleep apnea, a two-night study may be ordered to record the patient's sleep quality on the first night and then try to treat any airway obstruction on the second night.
At St. Joseph Medical Center, studies are prescribed by the patient's primary care physician. A patient checks in to the Center for Sleep Disorders around 7:30 p.m., Monday through Friday, and checks out the following morning around 6 a.m., without missing a day of work. Daytime sleep studies are available for patients who work nights.
Each room is equipped with:
Flat-screen TV
Lounge chairs
Sofas
Queen or king sized bed
Private bathrooms
Conditions
Obstructive sleep apnea (the upper airway collapses during sleep and airflow is obstructed)
Insomnia (chronic inability to sleep)
Narcolepsy (sudden and uncontrollable deep sleep)
Restless leg syndrome (involuntary movement)
Other sleep related issues
Resources
Are You Sleeping in the Right Position

Did you know you can actually improve your health while you sleep? It's true. A good night's sleep is essential to achieving overall physical and emotional health. Millions of Americans suffer from some form of a sleeping disorder that can negatively impact their life so finding the right sleep position is important.

Are You Getting the Right Sleep?

Over 70 million Americans suffer from sleep disorders, more than 60 percent of them chronic, with many of the cases going undiagnosed. Mostly impacting middle-aged people, especially men, sleep disorders add about $16 billion to national health care costs.